CNT delivers game-changing research, tools, and solutions to create sustainable + equitable communities.
MORE
Featured Projects + Tools
Featured Story
CNT Board of Directors Names Erin Grossi as new CEO
September 15, 2016
The Board of Directors of the Center for Neighborhood Technology is delighted to announce the appointment of Erin Grossi as CEO of CNT. Ms. Grossi takes up the position October 7, 2016.
"I am so excited about our decision to hire Erin," said board president James Cahan. "She brings ideas, connections, and strategic skills to lead CNT in carrying out its mission and identifying new opportunities and new resources to support it. Her appointment, and the continuing, enthusiastic engagement of founder Scott Bernstein as chief innovation officer, reinforces CNT's longstanding commitment to innovation in the service of creating sustainable and equitable communities."
Ms. Grossi comes to CNT most recently from UI LABS, where she served as the principal business strategist and oversaw an innovation portfolio including water/flooding solutions, smart buildings, and other technology projects. Before that she worked for 11 years at the nonprofit Underwriters Laboratories, most recently as Chief Economist and Director of Innovation. As UL's lead economic strategist, she was responsible for identifying and pursuing innovation and partnership opportunities to address environmental sustainability, energy transformation and health and wellness.
"CNT has a clear and enduring legacy of community engagement in order to drive economic development through thoughtful innovation," said Ms. Grossi. "I share CNT's commitment to environmental sustainability and believe that digital technology is presenting today's communities with tremendous opportunities to realize planetary and economic goals. I look forward to leading CNT's efforts to expand its innovation work by clearly identifying neighborhood challenges in Chicago and beyond, and matching those with appropriate and effective commercial solutions and innovations."
"Erin is someone who understands that innovation takes disruption, and new ways of getting change implemented beneficially," said Scott Bernstein. "CNT's emerging work in climate resilience, poverty reduction, and right-sized productive infrastructure requires strong leadership. I'm excited and honored to have the chance to work with such a capable partner."
Ms. Grossi succeeds Kathy Tholin, who stepped down as CEO in July. A national search to replace her culminated in the Board's selection of Ms. Grossi, according to Cahan: "Erin is thoughtful, leads through collaboration, and has a clear understanding of both innovation and execution. She brings the energy and ideas of a new generation to CNT, allowing us to continue to be a leader in the urban sustainability space."
Featured Video
Sustain-a-City Celebration 2016
CNT's Sustain-a-City Celebration, presented by Microsoft, brought together the top four teams from CNT's Urban Sustainability Apps Competition to choose the winners
CNT is engaged by governments, advocates, policy makers, and community groups to apply our expertise to solving problems.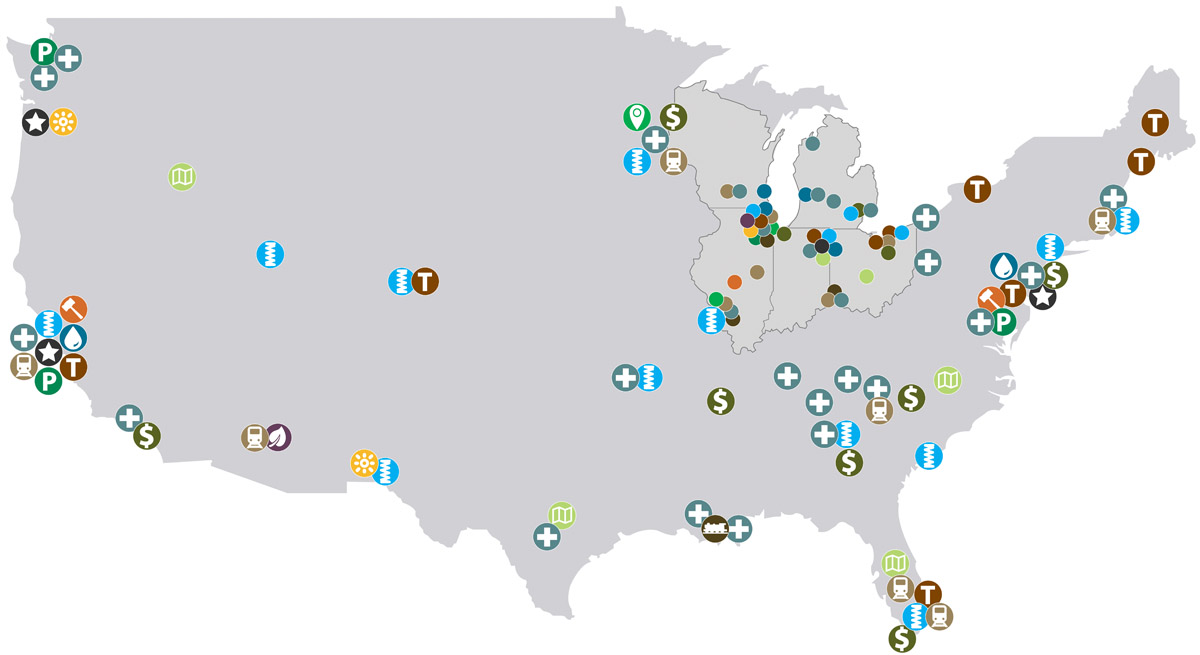 Transit-Oriented Development show all (15)
Cargo-Oriented Developmentshow all (4)
Housing + Transportation Affordabilityshow all (29)